Razzlem Up Dazzle - Full English

Black

- Dual Field & Show Ch

a

mpion Pedigree
Dazzle is an amazing dog - literally the smartest lab we have ever had. She is such a part of the family, she is like one of us.

Dazzle's Sire is Am/Can Ch Deep Run Casablanca (CD, Ra, MH, SHU),
Grand Sire is GCH Can/UKC CH Am Deep Run Poplar Forest Play It Again Sam (UD, RE, MH, MHU)
Dazzle has ultra high desire and intensity in the field, but then loves to crash on the couch in the hous

e.

Da

zzle Tested Clear for EIC, PRA, & CNM, DM, Cystinuria, HNPK - OFA Hips Good, Elbows Normal.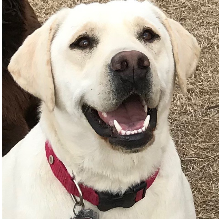 Starr - Light Yellow - Nearly all white.
Starr is a really sweet Lab. She loves to run and play, great hunting instincts - retrieved feathered birds from an early age with no hesitation.

Starr is Mixed English and American, bred primarily for her White coloration. Her pedigree is made up of well known breeding programs designed to create the White coat while producing genetically sound animals for the betterment of the breed.
Starr Tested Clear for EIC, PRA, & CNM, DM, Cystinuria