Starr - Bullet Breeding Due Date is March23 2019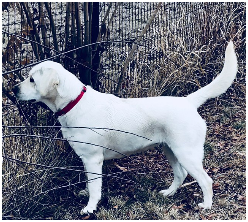 WHITE LAB PUPPIES-
Dame: Twinkle Twinkle Little Starr is a gorgeous nearly all white Labrador with English and American bloodlines. She is very intelligent, Loyal, Loving and exhibits excellent hunt/retrieve instincts. Starr has a wonderful blocky head and athletic Conformation. Star has tested clear on EIC, PRA-prcd, CNM, DM, Cystinuria
Starr's pedigree includes: Silver Bullet, Twinponds, Isenbarger's, and Bainbridge Labradors. - All Well known for their White Labrador Breeding Programs.
Sire: Rapid Fire Bullet is a GORGEOUS Solid WHITE Labrador, huge Block Head, All English Pedigree. He is out of Coastal Tide Labradors, WhiteVelvet LabradorsTwinponds, Goldberry, Shamrock Acre, and Bainbridge Labradors. He has beautiful conformation. He is 85 Pounds Solid Muscle, Very sweet and calm.
OFA Certified as Good on Hips and Normal on Elbows, Bullet has tested clear on EIC, PRA-prcd, HNPK, CNM, DM, Cystinuria.
Price is $1250 Per Puppy
Puppies are sold with AKC Limited Registration. Full AKC Registration is available to select breeder's that meet program requirements.
Now Accepting Deposits